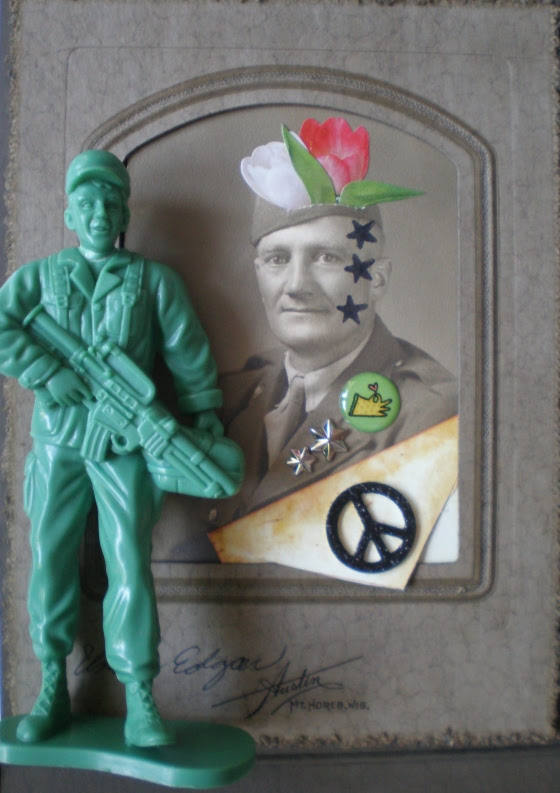 Another "found" photo.  This one is marked Uncle Edgar.  I'm assuming he was named after Poe.  That's why he was an unhappy child.  As he grew older, however, he changed.  He started thinking about life in a different way.  So when war began, as it always does, Uncle Edgar joined up.  Little did he know that he was far ahead of his time.
Uncle Edgar, you see, was a flower child.  He believed in peace, love and harmony and because he believed in these things, he decided to spread love and flowers among the "enemy."  He wore flowers everyday.  He sang songs of peace and he did his best to stop people from killing each other.  He was amazingly unsuccessful, of course, but he remained undeterred.
An interviewer at heart, having worked for a local newspaper when he was a boy, Uncle Edgar would find the enemy but rather than shoot or capture them, he would try to get them to sit down and talk about their families and their political point of view.  Unfortunately, the enemy rarely spoke English, which made it impossible for Uncle Edgar to understand a single word that anyone was screaming at him.  The actions of the enemy were much easier to decipher; they simply wanted to kill him. Uncle Edgar wrote thousands of letters to his loved ones, however, and those letters are archived at the public library in his home town.
Some of the soldiers made fun of Uncle Edgar.  Not because of the flowers in his hat or even because of the stars he had  tattooed on his face, but because of the ravens who followed him everywhere he went.  And yes, his middle name was Allan.  And no, no one knows if he was the original Poe, reincarnated, but they did look alike.  You can see it if you squint, really hard, while looking at their pictures, laying side by side.  And, it is said that people never wanted to visit his mother's house because they could hear a heart beating loudly, in each and every room.
Uncle Edgar came home from the war disillusioned.  He sat down at his kitchen table and started drinking coffee, among other things.  He stayed at the table for eleven months and then he got a dog.  He started going out, taking Annabell Lee for walks, and within weeks he was handing out flowers to the people he met on the street.  He did this until he retired, after which he started writing letters to people he never met, on the walls in his living room.  Eventually, the letters were transcribed and made into a book, which became an instant bestseller.
Even though Uncle Edgar was a tad strange, he was well liked.  His favorite food was oatmeal.  He liked brown socks and he loved red plaid shirts, although, he only wore dark green. After his passing, his house was inducted into the local historical society and tours were given at three in the afternoon, everyday, including Christmas.  Apparently, Uncle Edgar not only wrote on the living room walls, he wrote on the walls in the hallway and on the walls in one of the upstairs bedrooms, as well.   People were more than happy to stand in line, in order to read his work first hand.  His coffee cup is still sits on the kitchen table and Annabell Lee's dish remains on the floor, near the back door.  Her leash hangs over the doorknob.   There are always fresh flowers on the counter and a small sign saying, "Help yourself."   A lovely tribute to a flower child, who was born  way before his time.